Japan Bags Men And Ladies Titles At Cup Of China
The young pretender was put in her place by the veteran in the ladies event. Mao Asada had been behind the leader before her skate to "Swan Lake" and, despite some jump issues, she came out fighting. The two-time World champion opened with a good triple loop, but stuttered on the second jump of a double axel/triple toeloop combination. It was downgraded. Both her triple flips were penalized for being underrotated and she also doubled a triple lutz. Asada did execute two more clean triples and three Level 4 spins to give her a free skating score of 118.87 points. She won her first Cup of China title with a total of 181.76 points.

Julia Lipnitskaia still needed to skate well and she ever so slightly succumbed to the pressure. The World Junior champion used music from "The Nutcracker" which Asada also used in her senior debut year and she began with a triple lutz/triple toeloop combination. The first jump lacked rotation and she next had to put her hand down to save the landing of a double axel/triple toeloop. She did include four more triple jumps, but it was all a bit labored. The Russian earned 114.86 points for the free and overall 177.92 points.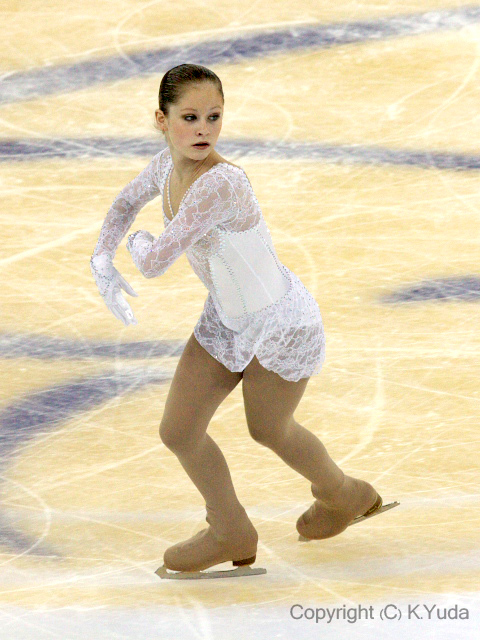 After having won gold and silver at previous Grand Prixs, Kiira Korpi completed the set with bronze in Shanghai. The three-time European medallist performed to "Once Upon A Time In America" and highlights included a triple toeloop/triple toeloop combination and three other triple jumps. The Finn scored 110.17 points and 169.86 points for her free and overall respectively. Both marks represent career bests.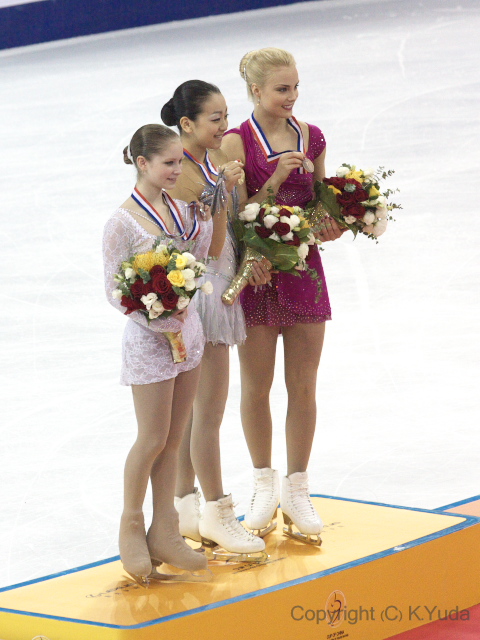 An incident during the warm-up period of the final group of the men's event forced the organisers to usher the skaters off the ice temporarily. Nan Song and Adam Rippon skated right into each other with the Chinese coming off the worse and had to be escorted away by medical personnel. Song was later reported to have sustained a concussion.
The interruption undoubtedly affected the skaters who will have been shaken up by what happened. Tatsuki Machida handled himself best and vaulted up from second overnight to win his first Grand Prix title. The Japanese who medalled two weeks ago at Skate America began his "Firebird" free with a lovely triple axel, but crashed to the ice on a quadruple toeloop. Although he overturned on the landing of a second triple axel, Machida managed to land six more triples to score 153.44 points and claim gold with 236.92 points. The overall total was a new personal best.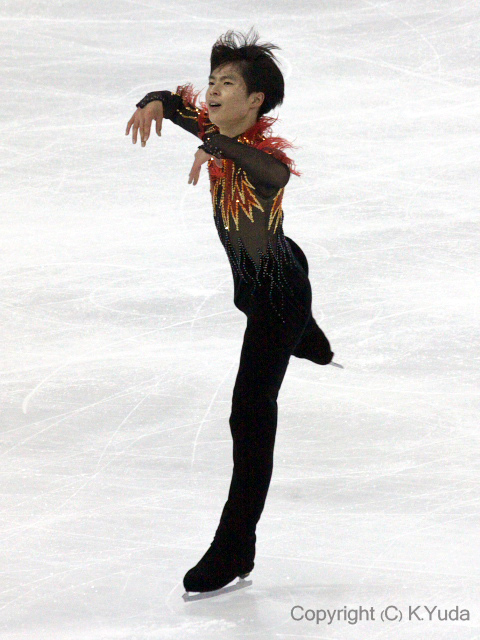 Daisuke Takahashi slumped to second place after a rough skate to "I Pagliacci" by Leoncavallo. The 2010 World champion had two quadruple toeloops, one of which was downgraded and the other underrotated. Although he nailed a nice triple axel, a second one was messy and he also fell on a triple loop. The positives were that three triples were clean and all of his spins and a step sequence were graded Level 4. Takahashi got 146.96 points for his free and 231.75 points in total.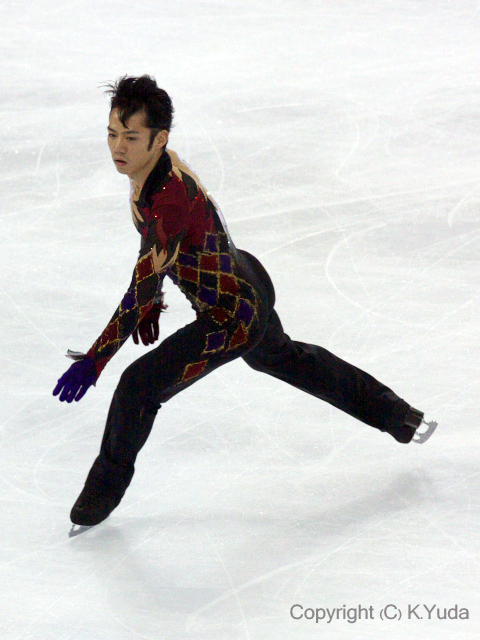 With a competent skate, Sergei Voronov hung on to bronze. The Russian landed a quadruple toeloop, two triple axels and four other triple jumps in his "Romeo and Juliet" routine. He amassed a score of 144.03 points to give him third place with 217.61 points. It was the first time Voronov had medalled at a Grand Prix event since Cup of China 2009.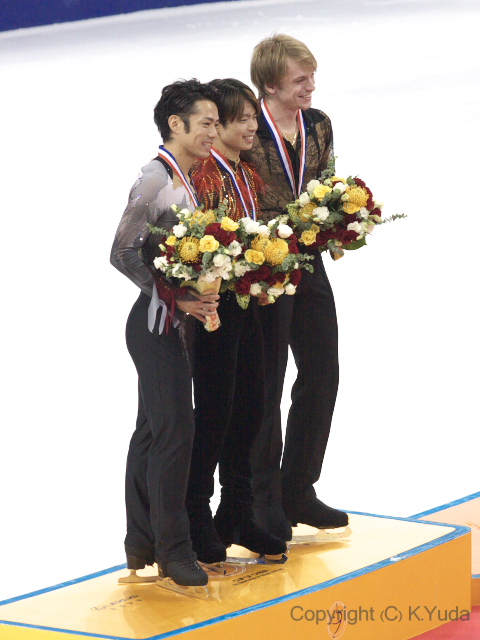 Qing Pang & Jian Tong became the first skaters to definitely secure their place in the Grand Prix Final when they glided to a third Cup of China title. The two-time World champions had to overcome problems with their side by side jumps with one of the partners alternatively coming up short on rotation. The Chinese did record a triple twist and triple loop and triple salchow throws near the end of their programme to music by Edward Elgar to score 120.25 points for the free and 188.82 points in total.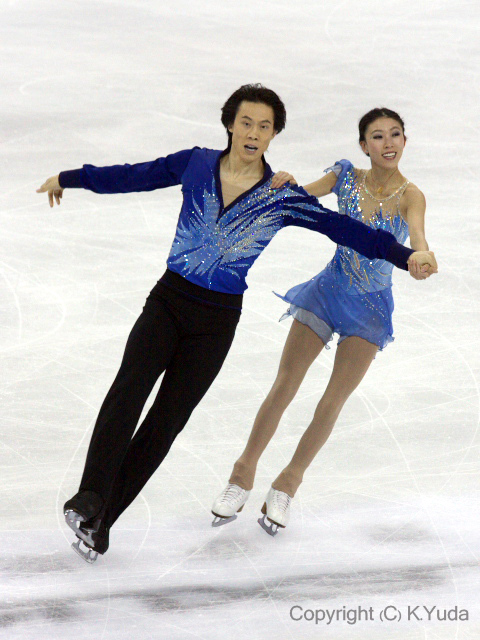 The free skate to "February" by Leonid Levashevich wasn't enough to elevate Yuko Kavaguti & Alexander Smirnov to the gold they won at last year's Cup of China. The 2010 European champions commenced with side by side triple toeloop/triple toeloop sequence, but Smirnov doubled the first one. The Russians also had some trouble with their triple twist and side by side double axels. They racked up 119.83 points for their free programme and 183.53 points overall.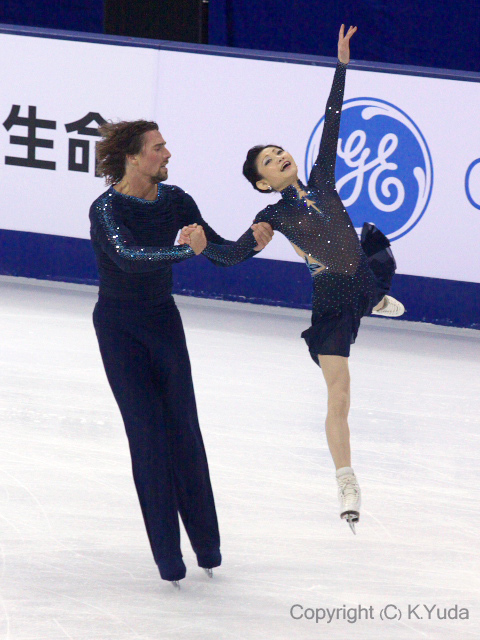 Apart from a fall on a triple lutz throw, Ksenia Stolbova & Fedor Klimov skated their Addams Family routine well to move up from fifth to third. This was the European bronze medallists first Grand Prix event medal.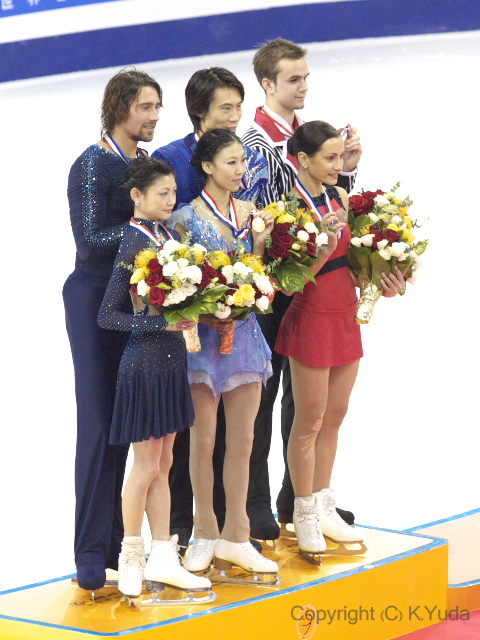 The ice dance podium was the first to be decided and Nathalie Pechalat & Fabian Bourzat showed a lively programme to a Rolling Stones medley to capture their second Cup of China crown. The two-time European champions looked sharper than they have done this early in past seasons and all four of their lifts as well their twizzles and dance spin received Level 4 from the technical panel. The French scored 100.58 points to give them gold with 169.73 points.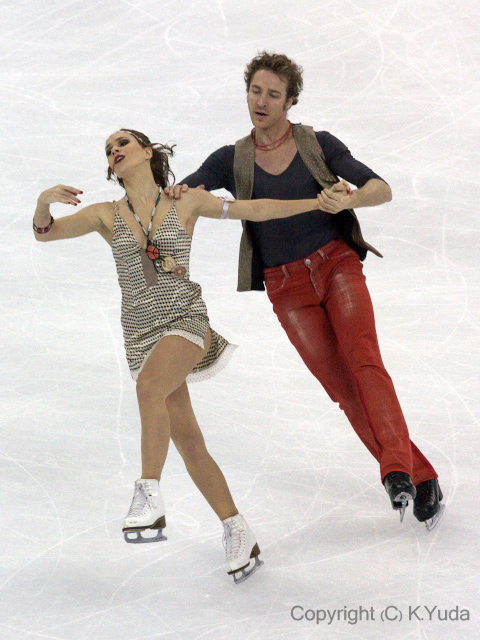 It was a case of déjà vu with Kaitlyn Weaver & Andrew Poje and Ekaterina Bobrova & Dmitri Soloviev again reversing positions in the free dance like they did at Skate America. The margin was smaller, but the result the same with the Russians claiming silver and the Canadians having to settle for bronze.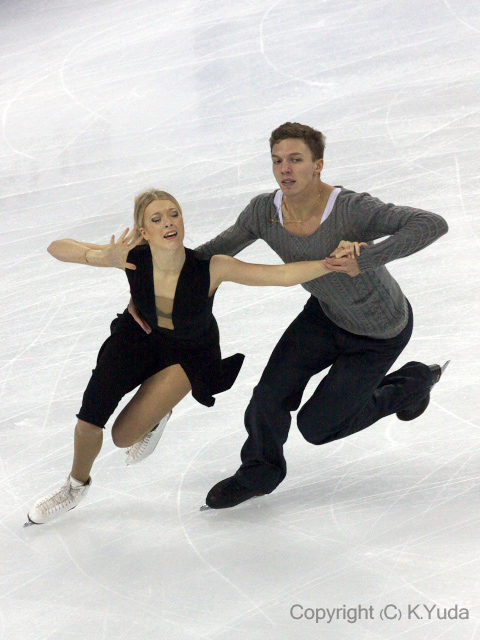 The Grand Prix circuit moves on to Moscow next weekend and the Rostelecom Cup.