Hanyu Breaks Through Point Ceiling Again On First Day Of NHK Trophy
Another Grand Prix event, another new world record. Yuzuru Hanyu broke the highest mark for a short programme at Skate America, the first Grand Prix of the season, and did it again this afternoon at the final one with a score of 95.32 points. The quality of execution is what really helped his scores with his most valuable element, a quadruple toeloop, racking up a whopping 12.73 points. The 2010 World Junior champion also reeled off a triple axel and a triple lutz/triple toeloop combination with ease in his blues-infused programme.
Even though he had to put a hand down to save the landing of a quadruple toeloop, Daisuke Takahashi posted a very strong score of 87.47 points for his rock 'n' roll routine. The 2010 World champion produced a triple lutz/triple toeloop combination and a triple axel and had all his remaining elements graded Level 4, including a very intricate step sequence. Takahashi will need to be foot perfect in the free if he is to overtake his young compatriot.
Javier Fernandez trains in Toronto with Hanyu and their coach Brian Orser is doing something right as the Spaniard is in third after a flawless programme to "The Mask of Zorro" film soundtrack. Fernandez landed a quadruple toeloop, a triple axel and a triple lutz/triple toeloop combination to score a new personal best of 86.23 points. With just under 14 points separating the top three from the rest of the field, it appears that the above trio will qualify for the Grand Prix Final even at this interim stage of the competition.
With two of their men leading their event, there was more good news for Japan as Mao Asada as she amassed the highest short programme score of the season so far with 67.95 points. Skating to "I've Got Rhythm", the two-time World champion commenced with a double axel (which may be upgraded to a triple later on in the season) and followed that with a triple flip/double loop combination and a triple loop. Asada also earned Level 4 for all of her three spins and her step sequence.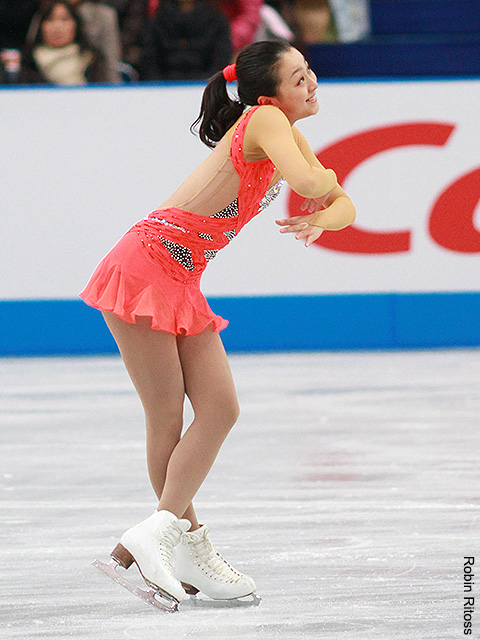 Mirai Nagasu is in a distant second place on 61.18 points. The 2008 U.S. champion eked out a triple toeloop/triple toeloop combination before reeling off a triple loop and a double axel in her routine to "Downhill Special" by Benny Goodman. Although she managed two Level 4 spins, her score was hurt somewhat by only getting a Level 2 for her step sequence.
The surprise of the ladies event was Zijun Li. It's the first season on the Grand Prix circuit for the Chinese skater, but she finished third in the short here over many more experienced competitors. Li put a triple toeloop/triple toeloop combination, a triple flip and a double axel into her "Dark Eyes" programme to score 59.62 points.
Akiko Suzuki is languishing down in fifth place on 58.60 points after popping a triple lutz into a single. However, she is still close enough to keep her Grand Prix Final qualification prospects alive.
As predicted, Meryl Davis & Charlie White were a class apart in the ice dance event which opened proceedings today in Sendai. The 2011 World Champions performed to "Giselle" and earned 69.86 points with Level 4 twizzles and a Level 4 rotational lift. It must be a cause of concern for the Americans that they have not yet achieved a Level 4 in any of their Yankee Polka patterns in their Grand Prix assignments.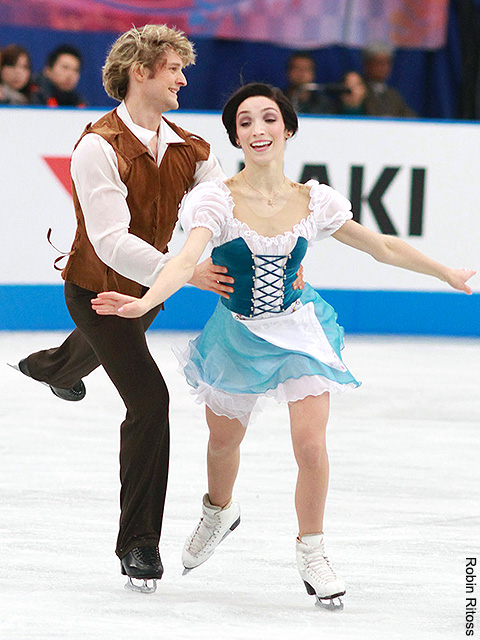 The race for silver is also as tight as foreseen with Maia Shibutani & Alex Shibutani with the edge currently over Elena Ilinykh & Nikita Katsalapov. The Americans sit in second on 60.84 points with the Russians in third on 59.96 points. If it hadn't been for the latter being penalised with two deductions for time and extended lift violations, the placing would be reversed.
The NHK Trophy 2012 continues tomorrow with the pairs short programme, free dance, men and ladies free skating.