Double Gold For Japan On Second Day Of NHK Trophy 2012
The gasp from the audience in the Sekisui Heim Super Arena and the look of shock on Mao Asada's said it all. The two-time World Champion had just finished a subpar performance of her "Swan Lake" free where she began by doubling a triple loop and later on doubled two more jumps and singled a fourth. Asada only managed three triples, albeit one was in a double axel/triple toeloop combination. No-one was more surprised than the five-time Japanese champion then when her score of 117.32 points and total of 185.27 points were announced. This was her third NHK Trophy title.
Akiko Suzuki didn't relinquish her crown without a fight and she skated one of the best free skates of her career. The World bronze medallist laid down a seven triple programme to music from Cirque de Soleil's "O" as well to three Level 4 spins to set a new personal best of 126.62 points, but narrowly failed to defend her title with a combined score of 185.22 points. Suzuki joins Asada in securing their places in the Grand Prix Final.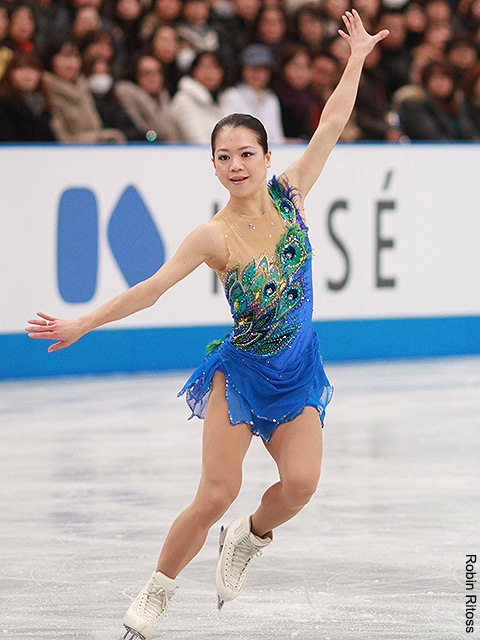 Skating to "Symphony No.3" by Camille Saint-Saens, Mirai Nagasu showed true grit in coming out and completing a six triple free. The 2008 U.S. champion had been lying in second, but four underrotations hurt her score and she was bumped down to third with a free score of 115.50 points and total of 176.68 points.
There was more great news for Japanese skating when their male skaters also went one-two. Yuzuru Hanyu had a hefty lead from the short even before his "Notre Dame de Paris" free had begun. The 2010 World Junior champion started out where he had left off with a quadruple toeloop, but stuttered when he had to put a hand down to save a quadruple salchow. Hanyu recovered with two triple axels and three other triple jumps before his fuel tank ran dry and he crashed on a triple lutz and then sat on the ice on a combination spin. Even with all that he still posted a free score of 165.71 points to give him a total of 261.03 points and his first NHK Trophy title in front of his hometown fans. The latter mark was also a new personal best.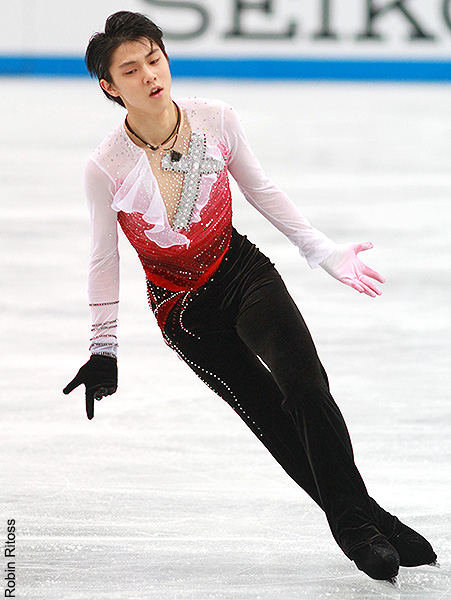 Daisuke Takahashi had a respectable if not error-free skate to Leoncavallo's "I Pagliacci". The 2010 World champion produced a squeaky clean quadruple toeloop to begin, but his second attempt at the same jump ended with him doublefooted. Aside from trouble with a second triple axel, the rest of the routine was faultless with five triple jumps. Takahashi scored 164.04 points and 251.51 points for his free and total respectively. The two Japanese men along with Javier Fernandez, who dropped to fourth here, advance to the Grand Prix Final.
The bronze went to Ross Miner who repeated his placement from last year's NHK Trophy. The American included a quadruple salchow, two triple axels and five triples in his programme to "Captain Blood". Miner's scores of 161.96 points for his free and 235.37 points in total were career bests.
The first title of the day to be decided was in ice dance and Meryl Davis & Charlie White recorded the highest free dance score of the Grand Prix Series with 108.62 points for their interpretation of "Notre Dame de Paris" on their way to gold. The 2011 World champions had four Level 4 lifts, a Level 4 dance spin and Level 4 twizzles. Their combined score of 178.48 points gave the Americans their second NHK title. They have not lost a Grand Prix event since December 2008.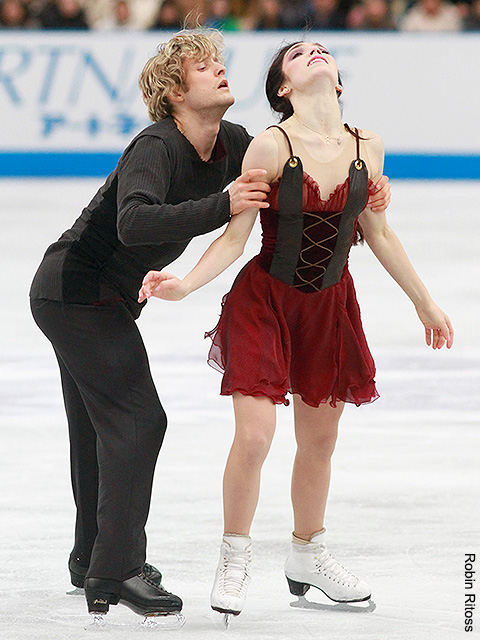 Positions were reversed when Elena Ilinykh & Nikita Katsalapov overcame Maia Shibutani & Alex Shibutani to take the silver medal. The gold and silver medallists in Sendai will now both contest the Grand Prix Final.
A much depleted pairs event short programme was the prelude to the free in the other three categories. It was nevertheless very competitive with Vera Bazarova & Yuri Larionov emerging in pole position overnight with 65.61 points. The European silver medallists skated to "Liebestraum" and executed side by side triple toeloops, a triple loop throw and a triple twist.
Kirsten Moore-Towers & Dylan Moscovitch were close behind the Russians on 65.14 points. The Canadians undertook the same elements as Bazarova & Larionov and bettered their technical score, but lost out on the programme components marks. They increased their personal best by just under four points.
In third place are Marissa Castelli & Simon Shnapir on 61.85 points which was also a lifetime best.
The NHK Trophy 2012 concludes tomorrow with the pairs free skating.