Sochi Comes Through Grand Prix Final Trial Run With Flying Colours
What a difference a year makes. Twelve months previously to the day, Mao Asada was back in Japan having withdrawn from the Grand Prix Final in Quebec City due to the untimely passing of her mother. It's difficult to know whether that was in the mind of the two-time World champion as she began her performance to "Swan Lake", but Asada certainly skated with great passion and feeling. She opened with a triple loop and went on to land five other triple jumps with the only flaw occurring when she doubled a planned triple salchow. All of her other elements were graded Level 4 and she awarded 129.84 points for her free and 196.80 points in total, her best scores in quite a while, to take her third Grand Prix Final title.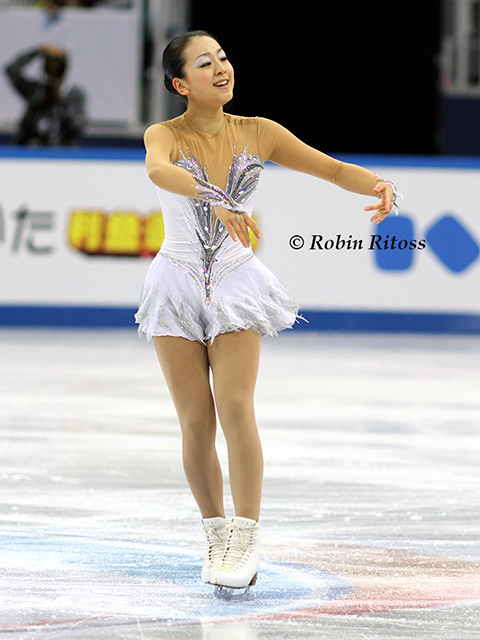 Ashley Wagner was visibly in pain after she flopped on her front on a double axel towards the end of her "Samson & Delilah" programme. Earlier on the Four Continents champion had crashed on a triple salchow. There were four good triples for Wagner and, despite finishing fourth in the free, she clung on to silver with a free score of 115.49 points and a total of 181.93 points. This was the American's first Grand Prix Final medal.
It was a strong start for Akiko Suzuki as she reeled off two excellent combinations at the outset of her Cirque de Soleil free. The World bronze medallist singled a triple lutz and fell on both a triple flip and a triple loop. Suzuki laid down three Level 4 spins and a Level 4 step sequence to rack up 115.77 points for her free and 180.77 points overall. This was her third time on the Grand Prix Final podium.
The ice dance event ended predictably with Meryl Davis & Charlie White winning their fourth straight Grand Prix Final gold. The 2011 World champions romped to victory with their free dance to "Notre Dame de Paris" and scored 110.19 points impressing the judges with their speed and dynamism to end up with 183.39 points. The Americans will be hoping that this momentum continues for the rest of the season.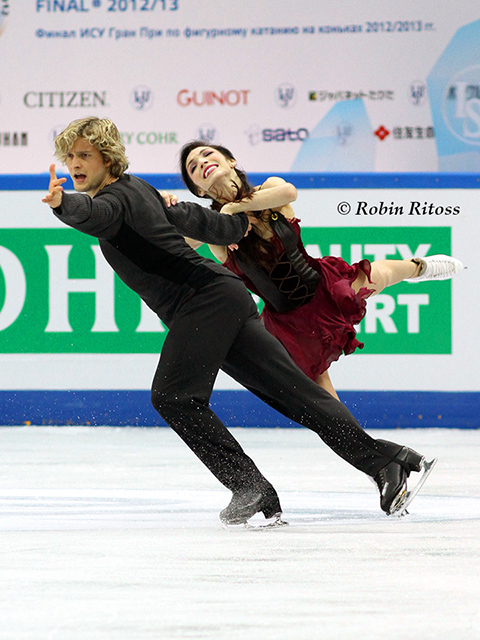 Tessa Virtue & Scott Moir displayed a sensual and dramatic interpretation of "Carmen", but the Olympic champions will have to wait another year to win a Grand Prix Final as they came up short with a free dance score of 108.56 points. The Canadians got a third Grand Prix Final silver with a total of 179.83 points.
Rocking out to a Rolling Stones medley, Nathalie Pechalat & Fabian Bourzat came third and took their fourth consecutive Grand Prix Final medal with a free score of 101.48 points and total of 170.18 points.
In an exciting men's competition, Daisuke Takahashi finally claimed Grand Prix Final gold at the seventh time of asking. Skating to "I Pagliacci", the 2010 World champion fell on his first jump, a quadruple toeloop, but was foot perfect afterwards landing a quadruple toeloop, two triple axels and five triple jumps. Takahashi scored 177.11 points for the free and a combined score of 269.40 points.
It was a Japanese one-two as Yuzuru Hanyu narrowly beat Takahashi in the free by the slimmest of margin with 177.12 points. The 2010 World Junior champion couldn't overcome the considerable gap from the short, but he did execute a quadruple toeloop, two triple axels and five triple jumps in his routine to "Notre Dame de Paris" with his only error being a doubling of quadruple salchow. A total of 264.29 points gave him his first Grand Prix Final medal.
Uncharacteristically, Patrick Chan made a strategic miscalculation when, after falling on a quadruple toeloop, he failed to tack a jump on to his second successful quadruple toeloop attempt and wound up doing an extra combination that didn't count. The two-time World champion nearly ended up off the podium with 169.39 points putting him fourth in the free, but third overall on 258.66 points.
Javier Fernandez finished first in the free skating, but couldn't quite make up the difference between himself and Chan and had to settle for fourth.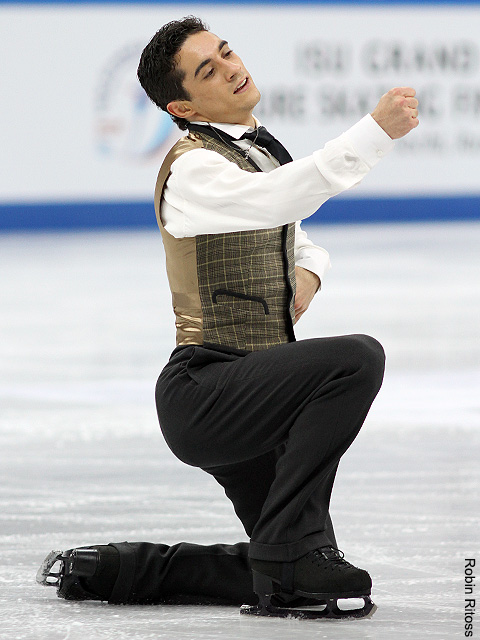 Not for the first time the scoring at a figure skating event left many onlooker scratching their heads. Tatiana Volosozhar & Maxim Trankov were looking regal as they finessed their way through their free with a triple twist, triple salchow/double toeloop combinations and a triple loop throw when all of a sudden the wheels fell off. Trankov fell on a side by side triple toeloop and then a timing issue on a triple salchow throw led to him collapsing and almost bringing Volosozhar down on top of him. The two-time World silver medallists had done enough combined to grab their first Grand Prix Final title, but it was a bizarre ending to what had been a sublime exhibition of the world's top skating talent.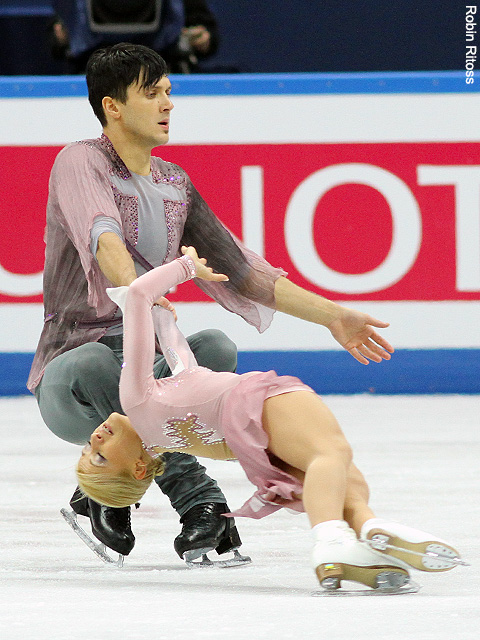 Vera Bazarova & Yuri Larionov had issues with their side by side jumps, but otherwise skated a solid free to "Spartacus" with triple flip and triple loop throws and a triple twist. The European silver medallists set two more personal bests of 131.46 points and 201.60 points for their free and total respectively to nab their first Grand Prix Final medal.
It was bronze this time for Qing Pang & Jian Tong making this the sixth time they graced the podium at this event. The two-time World champions chose to go for safety and only tried side by side double toeloops, but aside from this they included a double axel/double axel sequence, a triple twist and triple salchow and triple loop throws in their programme to music by Elgar. The Chinese were awarded 128.07 points for their free and 192.81 points overall.
Next year's Grand Prix Final will be held in Fukuoka, Japan.