Asada Leads Japanese Sweep
If there was any doubt after her short programme that she was back, Mao Asada showed in her "Swan Lake" free why she has now been installed as favourite for the World Championships title in just over a months time. The performance was impressive, but not flawless, and the frightening thing for her opponents is that there is room for improvement in her free score of 130.96 points and total of 205.45 points. The most notable errors occurred when the two-time World champion doublefooted the landing of a triple axel and when she doubled a triple salchow. There were six triples landed in all by Asada (although four of those were tagged with rotation and edge calls) and three Level 4 spins. If she can remedy the mistakes she made today, it is going to be difficult for her rivals to beat her in London, Ontario.
Akiko Suzuki took to the ice immediately after Asada and, considering what she had to follow, acquitted herself impeccably. Aside from a popped double axel, the World bronze medallist slotted six triples in her routine to "O" from Cirque de Soleil as well as three Level 4 spins to post a free score of 124.43 points and total of 190.08 points. The latter represents a new personal best and gave Suzuki her second Four Continents silver.
The Japanese domination of the podium was completed by Kanako Murakami claiming bronze with with her tango free. The 2010 World Junior champion produced seven triples with her the only blemish happening when she singled a double axel. Murakami scored 116.99 points for her free and a new personal best total of 181.03 points to bag her first Four Continents medal.
The championships was capped by the free dance, but the heralded showdown didn't materialise in the most bizarre of circumstances. Meryl Davis & Charlie White were first up to skate in the final group and blasted through their "Notre Dame de Paris" programme at a furious pace. The 2011 World champions garnered Level 4 for all their lifts, a dance spin, diagonal footwork and twizzles. Only their circular steps were graded Level 3. Their free score of 112.68 points and total 187.36 points would have been hard to beat at the best of times.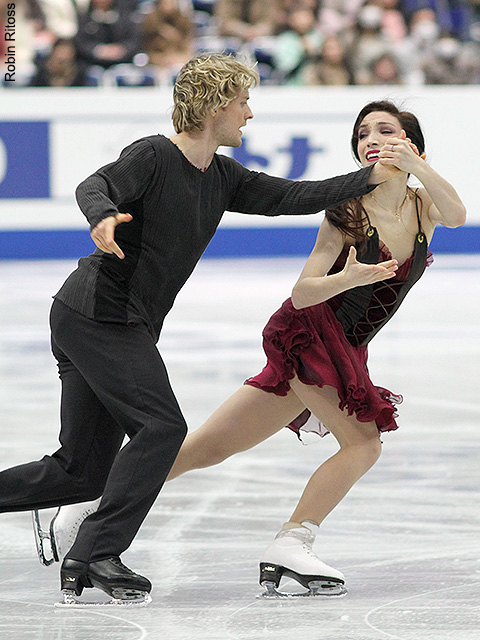 Tessa Virtue & Scott Moir were up next with the "Carmen" free dance and looked like they would match the Americans and leave the judges with quite a headache. However, three minutes after they had commenced the Olympic champions pulled up right before a lift. After a word with the referee and a prolonged discussion with their coaches rinkside, the Canadians resumed as if nothing had happened. Later it emerged that Virtue's leg had cramped. Their score of 109.20 points was more than respectable and incredibly it even gave them their best ever total of 184.32 points. Their silver was their sixth medal at Four Continents which ties the most ever won at the event.
Despite only coming fifth in the free dance, Madison Chock & Evan Bates hung on to third place with their "Dr. Zhivago" routine. The U.S. National silver medallists scored new personal bests of 94.98 points and 160.42 points to capture their first championship medals as a team.
Even though Kirsten Moore-Towers & Dylan Moscovitch finished first in the pairs free skating with a score of 130.45 points, their total of 196.78 points wasn't enough to hold off their compatriots Meagan Duhamel & Eric Radford. Duhamel & Radford botched their side by side triple lutzes, but were otherwise technically secure and scored 128.74 points for their free to give them 199.18 points for their first Four Continents title. A fall on a triple loop throw cost Moore-Towers & Moscovitch gold, but they came away with silver which was their first medal at a championships. Marissa Castelli & Simon Shnapir held on for bronze.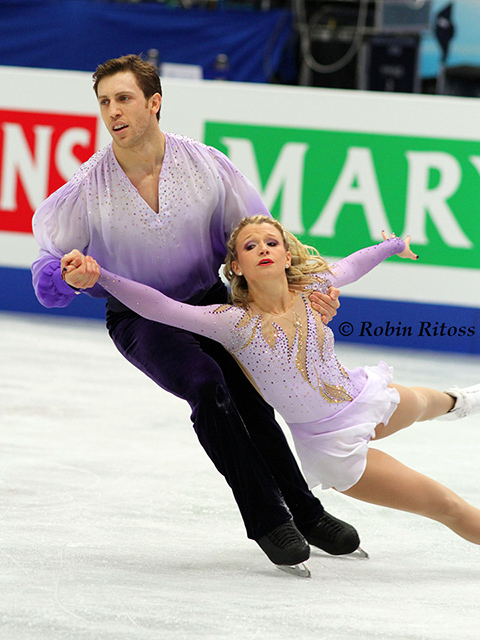 The ISU Four Continents Figure Skating Championships 2014 will be held in Taipei.